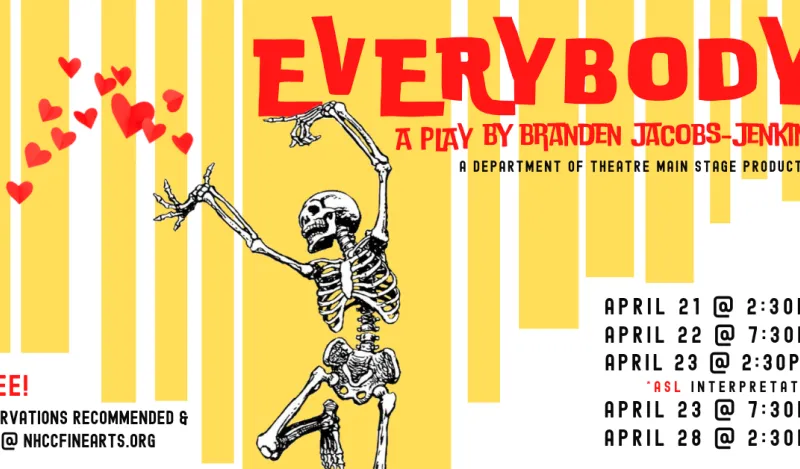 About The Play
On that fateful day when we face death, who (or what!) will stand at our side? And, what will we think about the actions done and choices made in our lives? 
Everybody by Branden Jacobs-Jenkins is a modern riff of Everyman (one of the oldest English language plays) that brings this 600-year-old morality play up to the moment of our pandemic times. 
Highly allegorical and contemplative yet infused with irony and irreverence, the central question of human existence is the beating heart of Everybody. The play's storytelling asks what we all wonder: Who am I? Why am I here? Where will I be going when I leave this earth? Written by Brooklyn-based, MacArthur "Genius" grant winner and luminary Black playwright Branden Jacobs-Jenkins, Everybody was a finalist selection for the 2018 Pulitzer Prize for Drama.
While the 15th-century play Everyman focused on telling medieval people how to die, Branden Jacobs-Jenkins' Everybody flips the script and asks us to reflect on how we live. Audiences will see themselves mirrored in the play's allegorical characters as they explore powerful themes such as friendship, family, and love in ways both serious and comical. 
Performance Dates
April 21 @ 2:30pm 
April 22 @ 7:30pm 
April 23 @ 2:30pm 
April 23 @ 7:30pm 
April 28 @ 2:30PM 
Where
NHCC Main Stage Theater (Room 178)
Fine Arts Center (FAC)
Content Advisory 
Strong language, mature content that discusses death, disrobement by actors, stage fog, and lighting effects. This performance has longer monologues which those under 14 years old may find challenging due to length.