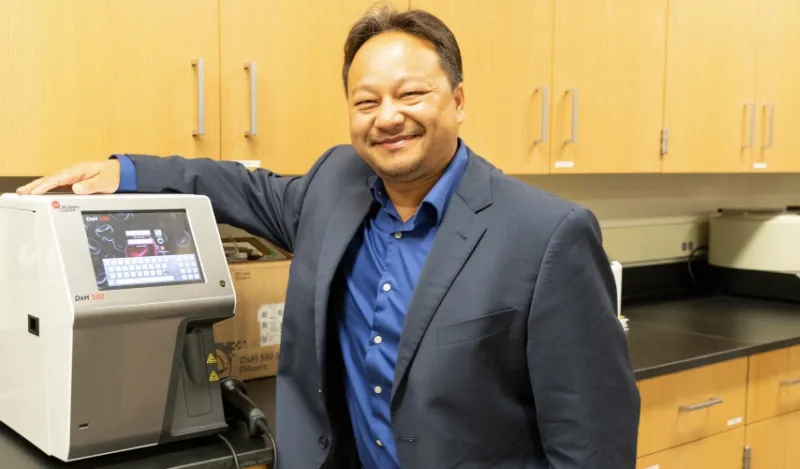 It's not every day NHCC's Medical Laboratory Technology (MLT) department receives a brand-new equipment donation; but in early October, that's exactly what happened on campus. The Foundation accepted the donation of two hematology analyzers on behalf of the college. This equipment was gifted to us from Beckman Coulter Incorporated, a national laboratory company, with a Minnesota base in Chaska. Even more exciting, is that NHCC alum, Chue Yang was a part of this partnership. Yang works at Beckman Coulter as a Production Operations Manager. Learn about Yang and this fantastic new alliance in the Q&A below!
(From Left to Right, Dr. Julia Ugorji, Interim Dean of the School of Nursing and Health Professions, Andrew LeMay, Phlebotomy Program Director, Ashley Martin, MLT Program Director, Chue Yang, NHCC Alum and Production Operations Manager at Beckman Coulter, and Laura Brandt, Director of Foundation Services).
From a Beckman Coulter standpoint, can you tell me about the grand vision for this donation?
The grand vision is to help the industry recognize that we have a shortage of interested parties that can come in and do these laboratory jobs. We want to be able to help grow the industry and provide a more diverse palette of all our Field Technicians, and Service Engineers.
What does a Field Engineer do?
A Field Engineer doesn't have to be an engineer. The traditionally held belief about Field Engineer's is that they are always on the road and they're never home. But all of our Field Engineer's, go back and sleep in their own beds every night.
How did the idea for this donation come to be?
At work, we noticed that we have a large group of current Field Engineers who are near retirement age. We were looking for a way to try to get more new people and new blood in. We want to repopulate our staff and we thought this was the best way to do it. Instead of fighting for new employees with our competitors, we thought, let's go help out a local school, partner with them and be able to tailor the folks that can come to us. It's important to us that we make sure that we get as many new people in as we can.
Is it a focus of yours to try to recruit non-traditional students too?
Yes, our focus is to get as many non-traditional students as possible. Because we know that there are a lot of people out there who are unsure of what they want to do and they don't know the possibilities of where this field can take them. So, we want to educate people on that and show them, 'Hey, there are a lot of things you can do with this degree. You don't have to be stuck in a hospital, or a clinic.'
Why do you want to train our North Hennepin grads in this industry?
We realize that North Hennepin is near our home base and we also realize that there's a lot of diversity here at North Hennepin. By having this partnership here, we can focus on getting more non-traditional students into the industry.
Did you have a good experience here at NHCC?
Yes, I had an excellent NHCC experience. I was here from 2010-2012 and graduated in 2012 with a Business Administration AS.
Did NHCC have an MLT program in 2012?
I don't know! That's the other thing, because it wasn't even on my mind that I wanted to do it. I came in to NHCC and I thought, 'Oh, I'll probably just study business.' I had a mindset that if my program had something to do with the medical field, it probably wasn't going to be the program for me. I also think, at the time MLT jobs were oriented more towards females. And as I've learned, it isn't just for female students. You have to break out of those old biases and start looking into the future. MLT programs and careers are equal for everyone.
Do you think if NHCC had an MLT program back then, you would have been in it?
Oh yeah, definitely, I'm super interested in it. I might still come back!
At Beckman Coulter, do you work on the business side to help get equipment in schools?
Yes, I'm part of the team that's putting this program together, to help get hematology machines into schools all over the U.S.
What would you like to tell prospective NHCC students, why should they come here?
First, I think of the cost because your pocketbook is important. The cost of NHCC is very, very affordable, compared to everywhere else. I went to Concordia University in St. Paul after NHCC and I think I had more resources here, than I had over there and that was almost two and a half times the cost. You've definitely got a lot more resources at NHCC and more opportunities for networking and connecting here. There are just so many other things you can do at North Hennepin that allow you to focus on your path moving forward. I can honestly say that what I appreciated the most about North Hennepin was the diversity. You get all different cultures here and it's celebrated. I can come here and be myself, I don't have to change myself to come here. I can be myself and I'm accepted for who I am. Yes, I see my strengths and my weaknesses, and it all contributes to the team. That was what I loved the most about North Hennepin. They made me feel like I belong here. I didn't feel that people were going to look at me differently because I'm a minority. Absolutely not. I came in here and I was part of the family.
Do you have any last comments about this partnership?
At Beckman Coulter, we realize that 75 million+ Baby Boomers are retiring and the sooner we can get more diverse, interested people trained in, the better. This is also our time to be able to change diversity in this industry. In the past, we realize that most Field Service Engineers were traditionally Caucasian males. Because they were educated, they knew someone had to do those jobs, and they were pushed in that direction. However, people in minority groups didn't really know about these job opportunities, or the programs that could get them there. That's what we want to do. We want to educate people more, communicate with them and say, 'Hi everyone, this is how you get to this point.' And we thought, while we're at it, let's mix it up. We can get diverse too. Our organization is very focused on diversity and inclusion. We want to make sure that within all parts of our organization, (not just here at our local site) but everywhere, that we're representing diversity and inclusion.
We also got a bonus perspective from MLT Program Director and Faculty, Ashley Martin.
From a faculty standpoint, what does this partnership mean to you?
Everything! My big focus coming here and running the MLT program is to turn students into lab professionals. Having this opportunity to help students think past the MLT degree, fits perfectly with everything that I try to make this program here stand for. This partnership is going to help foster all of that, within a different avenue. I try to tell students at orientation, 'These are all of the things that you can do with an MLT degree, and I know people that have done all these different things' but to have a direct connection into the industry side of it, I think is fantastic. Hopefully we can set up a separate final course that students can take, that will directly channel them into the industry this way. To have the new instrumentation and hematology machines within our classroom here is only going to further make our students that much more prepared for clinical goals and for whatever lies ahead. Then, having the option to funnel students toward the industry side, and open them up to those opportunities is fantastic as well. I'm very, very excited about this partnership. We're thrilled. This will mean a lot for our students, and it'll help us stand out. We can help get students into entry level jobs, help them decide what they want to do and then show them that there's all these different MLT channels you can take. I think that's going to be really awesome for students and it's just going to add to what they can do right here on campus. That's a big perk. A lot of students say, 'Oh, I'm interested in the St. Cloud program, but I don't want to go to St. Cloud.' I tell them, 'Nope, you can do everything here.' Beckman Coulter is headquartered in Chaska, so if students want to stay local there will be opportunities for them here. Even for the small group of students who do want to look for jobs out of state, there are Beckman Coulter opportunities nationwide and I think that's exciting! Also, all in all, this partnership aligns really nicely to NHCC. Diversity and Inclusion has always been a big focus for our campus and to have this nice opportunity that totally gathers everything and meshes together is just beautiful.