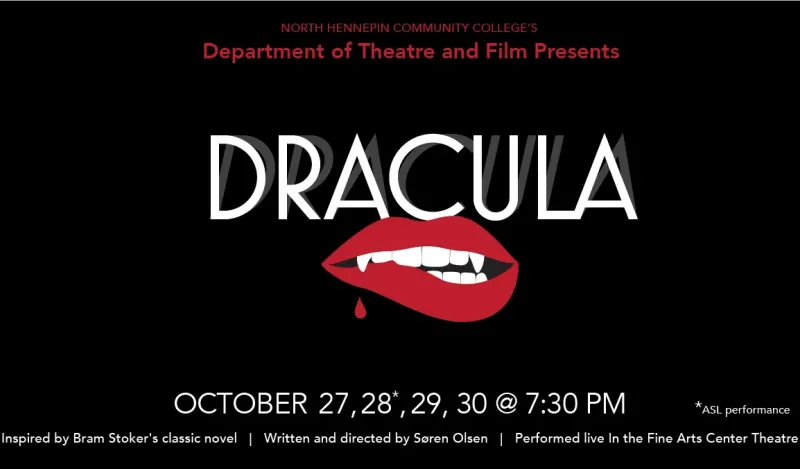 FREE!
Disclaimers: This show will include the use of FOG, Haze, Flashing Lights, Extended Darkness, and Loud Noises.
ABOUT:
Laughs, Scares, and Legend
A night of terror unfolds in Dr. Seward's mental hospital located in the remote wilderness. Seward's sister Mina has fallen ill with mysterious illness so they call in their old friend Professor Van Helsing to help. Things are looking up until Dracula arrives and starts to secretly manipulate people. The heroes are torn between their belief in one another and their fear of Dracula's vampiric virus. Trust is broken, the lights fail, and darkness consumes the hospital as a fight between Science and Supernatural unravels. This terribly enjoyable fiasco is a wild ride of laughs, fright, and legend.
WHEN:
The perfect show your Halloween weekend!
October 27, 28*, 29 , 30 @ 730pm
*ASL Interpreted Performance
WHERE:
COST:
FREE!
Seating is limited. Please arrive on time. No late admittance. 
COVID: 
BRING YOUR MASK… You'll need it. 
All actors and audience must wear a mask. 
Cast & Crew:
CAST:
Dracula : Kaz Anderson
Dr. Seward : Zackery Hansen
Renfield : Veronnica Chick
Joanie : Katie Dismang
Mina : Shatha Elkhair
Van Helsing : Nicolle Johnson
Morris : Clara Von Feldt
CREW:
Written / Directed / Lighting / Sound / Scenery by Søren Olsen
Production Support : Aaron Ojeda
Director's Notes
I was intrigued by Dracula's themes of infection, viruses, and fear. I grew further curious about this story when I noticed how Hollywood, General Mill's cereals, and marketing had stripped away the story and left only a cliché character. I wondered what Dracula, in this pandemic landscape, really wanted to be. I pulled back from the elegance, the gravitas, and the bleakness. I infused fresh humor and lightness, and kept the provocative style of haunting that Dracula classically employs. It seemed more than ever that DRACULA needed to be a manual on how to live in a world of fear and shadow, and still be able to find the light. 
This version of DRACULA wound up in a world similar to that of graphic novels. It's characters speak plainly with their thoughts and feelings right on the surface. The visual world is skewed and altered, creating a space that feels familiar yet strange. The heroes are archetypal and the villain legendary. The story is condensed, the setting focused, and the interpersonal plot unfolds with the presence of the enemy nearby. 
This incredible ensemble has worked diligently to adapt and create this production for the here and now. We scratched the old scripts and wrote our own. We worked and re-worked, and persevered through barriers and obstacles as we took on the challenge of producing live theatre once again. We listened to one another,  developed trust, found community, and became an organism destined to move beyond our individual weaknesses in order to present a delightful story of strength and villainy to you. 
We hope you laugh, gasp, cringe — and lose yourself in this display of legend and theatrics. 
Søren Olsen
Director / Writer / Designer