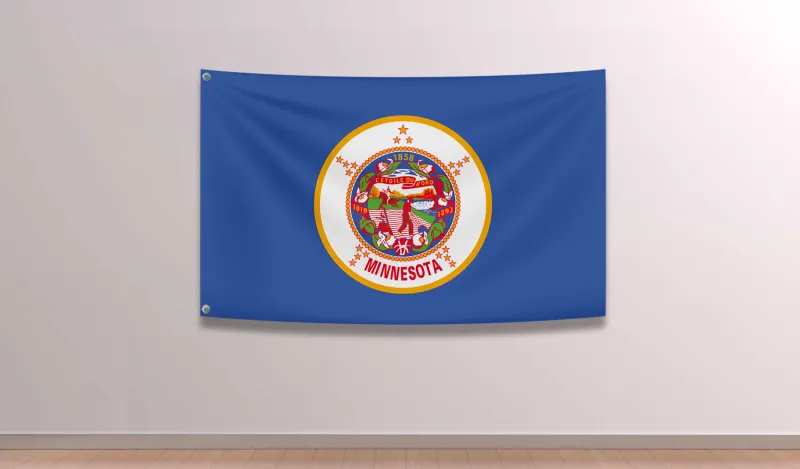 Join us for a captivating journey through the creative mind of renowned artist Luis Fitch as he unveils his groundbreaking exhibition, "Deconstructing the Minnesota Flag." This immersive experience is a unique exercise in design and branding that promises to redefine the way we perceive the iconic Minnesota flag.
This exhibit will run from:
October 12, 2023-December 18, 2023
Joseph Gazzuolo
Art Gallery Hours:
Monday–Friday:  9:00 a.m. to 8:00 p.m.
Highlights of the Exhibition:
Witness the Minnesota flag undergo a transformation like never before.
Explore the symbolism, history, and cultural significance behind each design element.
Engage and challenge traditional perceptions.
Gain insights into the artist's process and vision.
Discover the fusion of tradition and innovation in Fitch's thought-provoking artwork.
Don't miss the opportunity to be part of this art event, where the past meets the future through the lens of design and branding. Join us in celebrating the rich tapestry of Minnesota's heritage and its artistic reimagining by Luis Fitch.

Admission is free, and all art enthusiasts, history buffs, and design aficionados are welcome to attend. Be ready to be inspired, captivated, and awed by the deconstruction of the Minnesota flag like you've never seen before.

We can't wait to share this artistic journey with you!
Luis Fitch
Artist Statement for "Deconstructing the Minnesota Flag"
In "Deconstructing the Minnesota Flag," I embark on a transformative artistic journey that challenges preconceived notions of identity, heritage, and the power of symbolism. This exhibition is a bold exploration of Minnesota's emblematic flag, a symbol deeply rooted in the state's history and culture.
I have taken it upon myself to unravel this iconic flag's layers of meaning and significance. By deconstructing the Minnesota flag, I invite viewers to question and reimagine the narratives that define our collective identity.
Each flag piece in this exhibition serves as a unique lens through which we can examine the intricate relationship between past and present, tradition and innovation.
I have dismantled and reinterpreted the flag's elements, revealing hidden stories and unearthing fresh perspectives.
"Deconstructing the Minnesota Flag" is not just an exploration of a state's emblem but of the essence of art itself. It is a testament to the limitless potential of creativity, where boundaries are blurred and new narratives are born.
As you immerse yourself in this exhibition, I encourage you to reflect on the power of symbols, identity fluidity, and art's transformative force. Join me in this exciting endeavor to deconstruct, reconstruct, and ultimately reimagine the essence of Minnesota's soul.
Luis Fitch Biography:
An internationally renowned Mexican artist, mentor, and creative entrepreneur specializing in fine art and working across gallery and urban art settings. His artistic repertoire encompasses various mediums, including screen prints, stencils, stickers, masking film illustrations, wheat paste, collages, sculptures, posters, paintings, and murals.
As a young adult, Luis grappled with the challenges of maintaining a solid connection to his Mexican culture and roots in the face of the influences of the Mexican-U.S. border. This struggle catalyzed his creative growth, as he keenly observed and responded to his surroundings.
Growing up in Tijuana, Luis found himself amidst a vibrant community of individuals migrating from South to North in search of improved opportunities, resulting in significant new subcultures. During this period, he developed a remarkable ability to visualize and articulate the cultural discontinuities between the South and North, recognizing that migration reflects individuals' societal needs and aspirations within a specific environment.
Raised in the 70s and 80s in the most visited border on the planet, Tijuana, Mexico, Luis relocated to the United States in 1985. He pursued his artistic education at the esteemed Art Center College of Design in Pasadena, California, earning a Bachelor of Fine Arts in 1990.
Luis's artwork has garnered widespread recognition both nationally and internationally. His art pieces are featured in over 380 private and institutional collections throughout the United States, Mexico, and Latin America, including prestigious institutions such as the Cooper Hewitt, Smithsonian Design Museum in New York, the Minneapolis Institute of Art in Minneapolis, the Minnesota History Museum in Saint Paul, the National Museum of Mexican Art in Chicago, The City of Albuquerque, National Hispanic Cultural Center, and the Tamarind Institute.
In addition to his extensive collection of accolades, including the McKnight Visual Artist Fellowship, the Ohio Art Council Fellowship, the AIGA MN Fellowship, the Peter Glen Special Award for Public Services, and the 2018 City Pages Artist of the Year, among others, Luis frequently shares his expertise at creative art conferences and universities worldwide, delivering lectures on the intersection of art, design, and commerce.
Luis has been busy with a range of exciting projects. He's crafted four stamps for the United States Postal Service and curated and designed an art collection for Target that celebrates the Día de Muertos (Day of the Dead) for their stores nationwide. Adding to his achievements, he was recently chosen by the Minnesota State Emblem Redesign Commission as the Chair Commissioner for the redesign of the Minnesota State Flag and Seal.
We look forward to seeing you at the opening reception next week, on October 12th!