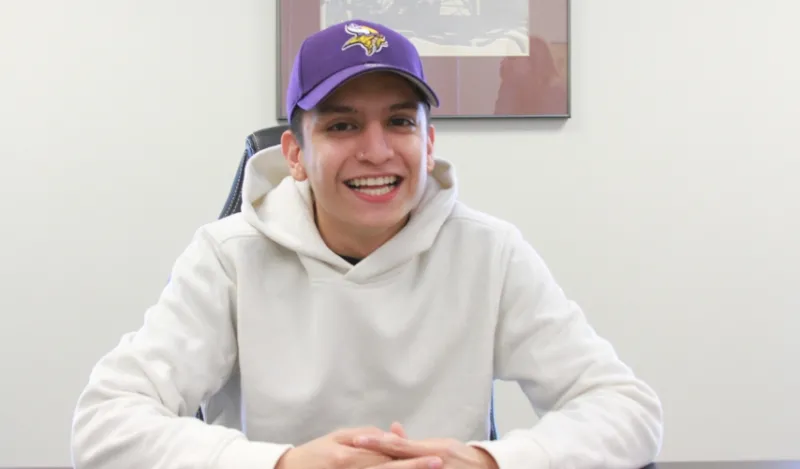 Armando Morales, is the 2019 Mark M. Welter World Citizen Award Recipient. He is a Communication major at North Hennepin Community College. We sat down to chat with him about receiving the World Citizen award and his experiences at NHCC.
First off, what does this award mean to you?
It means a lot, especially being nominated by someone who I really look up to at North Hennepin. Paulette Bonneur nominated me. She really helped me a lot here along the way. 
What events led up to you receiving this award?
It's funny, because when I first met Paulette, I didn't know where my life was going. I was torn between applying to be a Work Study here at North Hennepin, or applying for an external job. Paulette laid out the pro's and con's of each job for me. I ultimately decided to become a Student Worker, because I knew I wanted to focus more time in school and be involved with my schoolwork. I started to network and communicate more with people around the school. I also became a Student Senator.
Do you know what you'll use the award for in the future?
I plan to use it towards tuition, because I pay my tuition out-of-pocket. That will go a long way for me. 
What was the process of receiving the award, did you know what was going on behind the scenes?
No, I had no clue. I first got an idea about the award during one of our full senate meetings. Paulette came up and asked, "have you checked your email?" That was all I had heard about it. The next day I got a letter in the mail saying "congratulations!"
Was it a total shock to receive the award?
Yes, total shock, I was not expecting it. I opened the letter on the weekend and I was a little sad I wasn't at school, because I wanted to give Paulette a hug.
Do you think that your major helped you to get nominated for this award?
Yes. There are a few instructors who I always think about when I think of my time here at North Hennepin. In the beginning, I was in a spot where I wasn't sure if school was for me. However, my instructors really helped me to enjoy learning and helped me continue my education. One of my favorite instructors who always comes to mind is, Dr. Jensen. He definitely sparked something in me during every class I had with him. 
How did you decide to major in Communication?
I like interactions with people. In my free time I've worked on a grassroots level and advocated for my beliefs. In the end, communication goes hand in hand with what I enjoy and what I do with my time. 
What kind of grassroots work did you do?
I'm a part of Barbershop's Creating Change in our Community. The whole idea for the club is that minority groups get together and discuss different topics, such as, politics, or sports, for example. In Barbershop, we talk about certain situations and how we'd each handle them, either together, or on an individual level. We also organize, advocate and lobby together at the State Capitol. BCCC has informed me on what our representatives do and how our governmental system works. 
What do you enjoy most about NHCC?
I enjoy the support, the help and all the different people and students I've met. I've met so many different people from classes I've taken; fun courses, from acting, or guitar, to my regular communication classes right now such as, public speaking. There's a variety of people at NHCC. That's one thing I appreciate about this school, the diversity. I grew up in Brooklyn Park, in a very diverse neighborhood. I appreciate seeing that diversity going into higher education.
Are you a part of any clubs or organizations in addition to Student Senate?
I spend a lot of time in the diversity office as well, attending their events. I can name so many people, in terms of staff and faculty here, that I've been pretty involved with. They've driven me a long way. 
What advice would you give to an incoming NHCC student?
If you're an undecided major when you're coming into North Hennepin, (like me), definitely search up courses that you think you may be interested in. You want to have a first-hand experience with that topic and see if it's something you want to continue with, or not. Then, know that there are a lot of resources and people who are willing to help you here at North Hennepin. Just make sure you're taking advantage of them.
What three words first come to mind when you think of NHCC?
Diversity, support and fundamentals.
Thank you so much, Armando and congratulations again!