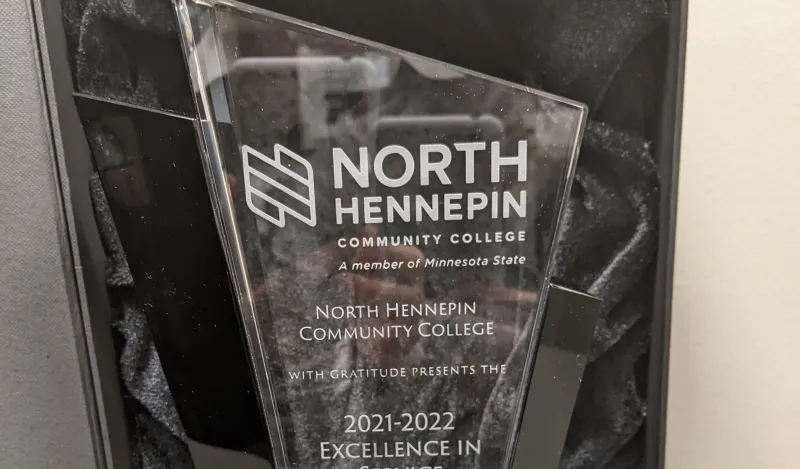 Congratulations to our recently announced North Hennepin Community College staff and faculty awardees! 
A little background on each of these awards:
The Excellence in Education Award program is intended to encourage, recognize, and reward the work, accomplishments, and important contributions of NHCC faculty for excellence in teaching for student success. 
Up to two Excellence in Service Awardees are announced each year. This award is designed to recognize and celebrate faculty and staff who have:
Shown initiative as an emerging leader,
Delivered excellence in service; or
Developed a process improvement initiative.  
The Innovation of the Year Award program is designed to recognize and celebrate college faculty and staff who have designed and implemented a significant innovation that will create new programs, improve processes, or enhance opportunities available to our campus community. Individuals or teams may be recognized for their contribution to creating innovation. 
The Diversity and Equity Award is designed to recognize and celebrate faculty and staff who: 
Have created innovative procedures that foster inclusivity and equity
Developed or implemented programs and practices that improve access and retention of diverse community members
Have demonstrated measurable progress towards achieving student engagement or the success of underrepresented students 
The 2022 awards were given to:
Excellence in Education Awardee: Therese Rice
Therese Rice is an Accounting faculty member at NHCC. 
Board of Trustees Excellence in Education Nominees: Paul Melchior and Sara Van Asten
Paul Melchior is a Biology faculty member at NHCC. 
Sara Van Asten is a Mathematics faculty member at NHCC. 
Excellence in Service Awardees: Susan Swenson and Thomas Lynch
Sue Swenson is a Senior Office & Administrative Specialist at NHCC. 
Tom Lynch is the Director of Access Services at NHCC. 
Innovator of the Year Awardee: Andrew Mundt (not pictured). 
Andrew Mundt is an Institutional Research Analyst at NHCC. 
Diversity & Equity Awardee: Gina Schmidt (not pictured).
Gina Schmidt is a Career Pathways Advisor at NHCC. 
Thank you for all of your hard work and dedication to engaging students, changing lives. We appreciate your service and support throughout the year. We truly couldn't do this without you!