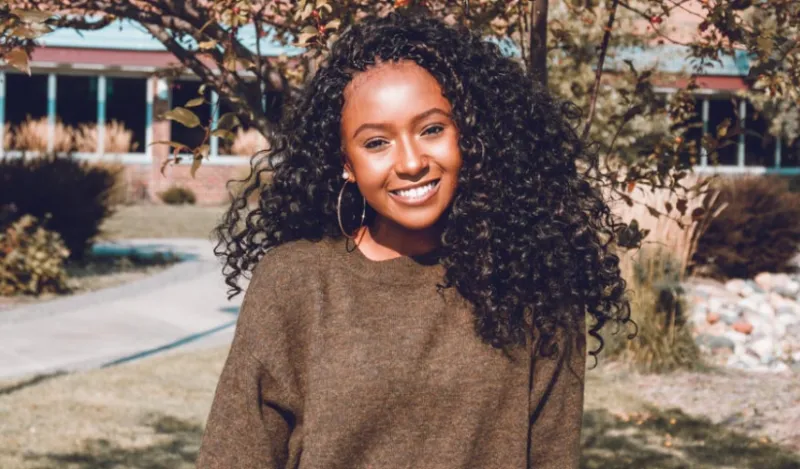 Victoria and Janthony
What brought you to North Hennepin?
PSEO students Victoria (left) and Janthony (right) are juniors in high school at Brooklyn Park's own Park Center Senior High School. Starting at NHCC this fall, they strive to be an example to their friends by being a step closer to their degrees.
What's the most unique thing about NHCC?
Victoria and Janthony agreed, "It's not extremely difficult to get involved on campus and that NHCC is welcoming to new students."
What would you like to accomplish at North Hennepin?
"Grow together and create life-long friendships while staying encouraged." As a psychology major, Janthony aims to, "help others deal with their stress positively and adequately."
While Victoria pursues a theatre major, she aims to, "show many different emotions and feelings through performance art where, for most, these are the most difficult qualities to show."
Kemmy
Why North Hennepin and how long have you attended?
Kemmy (Omenge) Miles is in her second year at NHCC. After she weighed her options, she chose North Hennepin, "because of the cost differential and the diversity offered is unmatched." She says, "I wanted to save money getting my nursing degree and I was scared to be deep in debt when I completed school. North Hennepin spoke to my pockets."
How are you involved on Campus?
"I haven't always been involved when it came to extracurricular activities, until this year. I'm the promotion and events coordinator for Pan African Students Association. I've attended several multicultural and diversity initiatives and I remember when I was quiet and felt as if I didn't belong. So, now I want to be the voice for the students who don't quite have theirs yet and this year I believe I can encourage them."
What encouragement could you offer future students?
"Remember that it's not where you start, it's where you finish. Really focus and pay attention because you should really know what you're there for."
Photography and Q&A by Mallory Harris