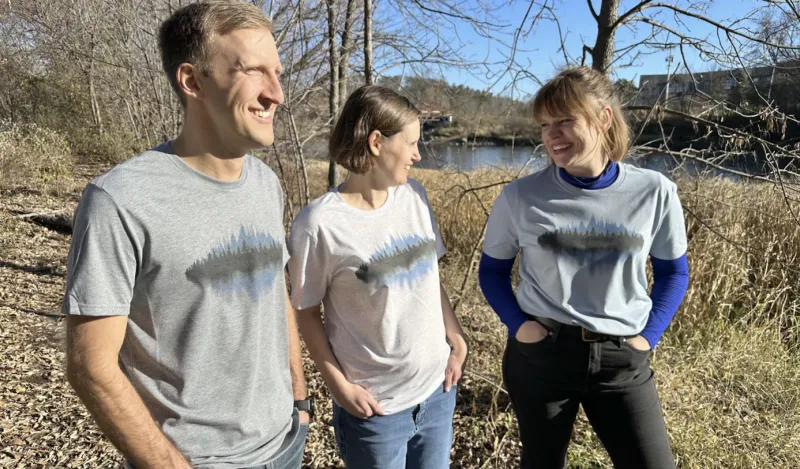 Have you ever heard the term phenology before? Phenology is the study of cyclic and seasonal natural phenomena, especially in relation to climate, plant and animal life. But chances are, before diving into a recent class project, these graphic design students at NHCC didn't know what the term meant either!
Last month, Jason Schoch's Advanced Graphic Design students had the opportunity to work with KAXE Radio (from Grand Rapids and Bemidji,) on a shirt design for their fall membership drive. The concept for the t-shirt design was phenology, (also described as) the longitudinal study of patterns in nature (for example, migrations, dates of first snows and other events relative to years past). Jason added, "[The collaboration] has been a success all around and NHCC superstar student, Oyin Omole's winning design will be seen on people "up north" starting in November and December!"
Maria Hileman, Marketing + Social Media Manager of Northern Community Radio (including KAXE 91.7 FM) kept in touch with Jason throughout this collaboration process.
Maria shared, "This whole project was made possible by Jason, who posted on LinkedIn looking for non-profits to work with his advanced graphic design class. I noticed the post, reached out to Jason and the rest was history."
It seemed like a win-win situation. The northern Minnesota radio station would get a design for their 40 Years of Phenology t-shirt and Jason's class would get a bit of real client work experience. 
But they didn't stop there!
After the KAXE Radio staff saw NHCC student, Oyin Omole's t-shirt design, they were blown away, and thought it would be awesome to have her on the radio and talk about her shirt design. So, that's exactly what they did! Morning Show host, Heidi Holtan was happy to interview Oyin, Jason, and Maria. The fall member drive for KAXE Radio is now up and running and it is super exciting that the t-shirt designed by Oyin became their membership gift! (Oyin is pictured below and her winning shirt design is on the models). 
Listen to Oyin and Jason's radio segment and find more information on KAXE Radio, here at this link!
Congratulations to our very own NHCC graphic design student, Oyin Omole!!!