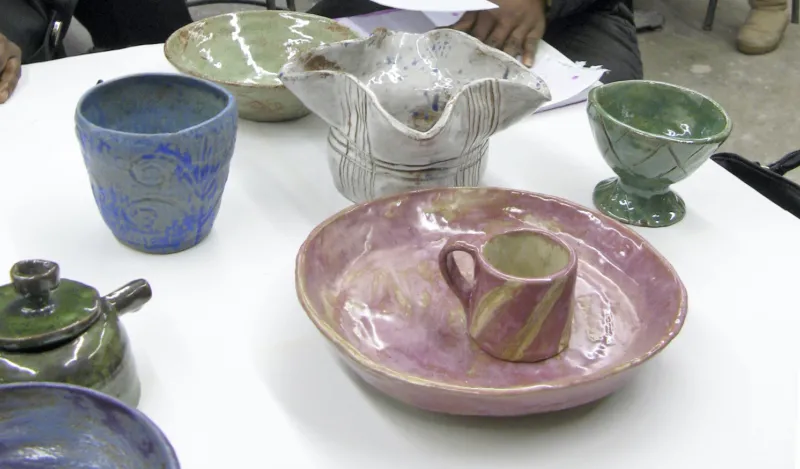 NHCC's Ceramics classes are enrichment courses. Many students mention it's a relief from other classes and daily life.
Anyone can take Ceramics! Actually, Nursing and Law Enforcement students tend to excel in Ceramics. No prior experience with clay is necessary.
Students seem to enjoy resourcing their inner creativity and they get to keep their work. Ceramics classes at NHCC are basically stress-free!
Ceramics 1361: This unique enrichment class champions the experimental use of clay and traditional pottery. Students enjoy all aspects of creating with clay including hand- building, wheel throwing, and imaginative glaze applications. In our fifteenth year offering Ceramics, we embrace inclusivity and cultivate individual creative expression. Students can expect a stress-free ceramics experience.
Three-Dimensional Design 1310: Students create in a project-based classroom setting that nurtures three dimensional ideas. During class, students will be exposed to contemporary artists and prevailing artistic trends.
NHCC's Ceramics Instructor
Glenn Grafelman 
Education
BFA, Minneapolis College Of Art and Design
MA, University Of California-Berkeley
Glenn's Bio
Glenn Grafelman is an artist and professor who engages in painting, photography, and ceramic sculpture. Grafelman's work abstracts personal experience and imagines the emotional and ideological landscape.
Grafelman was born in Minneapolis, Minnesota, and received a Bachelor of Fine Arts from the Minneapolis College of Art & Design, graduated from the University of California, Berkeley with a Masters of Art, and continued Master of Fine Art studies at the School of Visual Arts, NYC. A lifelong learner, he studied Wet Plate Collodion photography and other antiquarian photography techniques at the George Eastman House and International Museum in Rochester, NY. 
Glenn Grafelman served as an adjunct lecturer at the Montserrat College of Art, University of New Hampshire, University of Southern Maine, College of Visual Arts, St. Paul, and the University of Minnesota Twin Cities Campus. In 2007 Grafelman was appointed Unlimited Full-Time Faculty at North Hennepin Community College and in 2008 began the Ceramics Program at NHCC.
Grafelman's art has been featured in national and international exhibitions and has maintained studios in New York, NY, San Francisco, CA, and Geneva, Switzerland. His work resides in museum, corporate, and private collections in France, Switzerland, and the United States. 
Courses Taught
Introduction to Ceramics 
Intermediate & Advanced Ceramics
Beginning Painting (Oil & Acrylics)
Intermediate & Advanced Painting
Beginning, Intermediate & Advanced Drawing
Beginning & Advanced Film (Darkroom) Photography
Digital Photography
2 & 3 Dimensional Design 
Color Theory (Fundamentals of Color)
Art Appreciation
Mixed Media (Art) Workshops
Areas of Expertise/Interest
Aesthetic Theory
Phenomenology of Creativity
Paint and Mineral Coatings Technologies