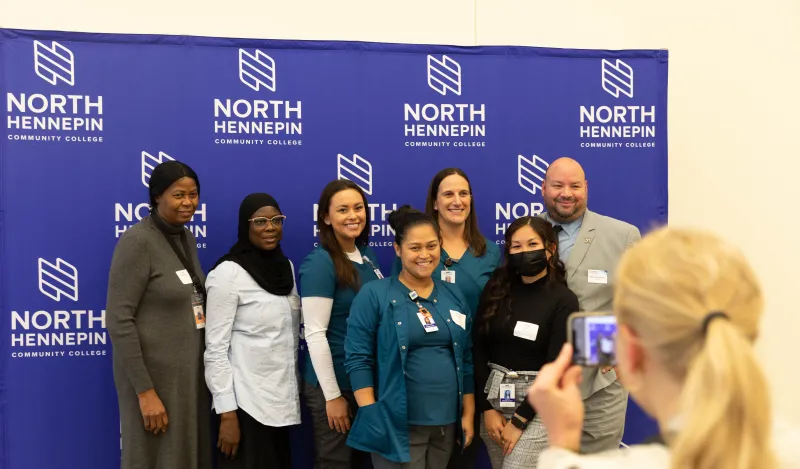 Strengthening connections between people, businesses, organizations and NHCC is part of the NHCC Foundation's work. This Fall, three events were held where we celebrated those connections. 
Reconnecting and reminiscing are how NHCC retirees celebrate at their annual luncheon. They get a chance to reconnect with each other and the college. This year's event was held August 26th in the Grand Hall. Here are a few pictures and you can find more on the NHCC Foundation Facebook Page.
Connecting to say thank you is a main purpose of the Scholarship Reception. Recipients of NHCC scholarships got a chance to meet those who established the scholarship they received. On September 22, we had a packed Grand Hall celebrating 147 students receiving $246,000 in scholarships. Here are a few pictures but more can be found on both the NHCC and NHCC Foundation Facebook pages.
A huge THANK YOU to all the faculty and staff who help in the scholarship process. First, those who donate to the Foundation so these scholarships can be awarded. Second, to those who read the scholarship essays as that does take time. Third, to the writing center for assisting students with their essays, and fourth, to those that held scholarship workshops, invited Troy to their classes, and promoted the scholarships to current and prospective students in various other ways. We on the NHCC Foundation team are extremely grateful!
Commemorating our connections was the focus of the Heritage Garden Dedication on September 29th. We celebrated and commemorated:
Students who dedicate themselves to self-discovery and acquiring knowledge
Alumni are making their mark in the world
Faculty and staff (current and former) who create an exceptional learning experience
Donors who help students fulfill their educational goals
Local communities, businesses, organizations, and community member who support an educated workforce
Family members of students, faculty, and staff whose support also changes lives
Over 200 people have supported NHCC students through a donation to engrave pavers, or place inspirational messages on benches, trees, rain gardens, water feature, and the gazebo. They have provided a place where we can go to relax, reflect, and be inspired through their connection with NHCC.
An alum who couldn't attend the dedication sent us this note: "I visited NHCC in July 2021 and saw the Heritage Garden. It is a special and beautiful place. I feel privileged to have my name inscribed on one of the pavers. Standing there brought back my experience at NHCC and all the wonderful people who touched my life as I earned my MLT degree! May NHCC continue to thrive in the years ahead!"
THANK YOU to everyone who gave toward the engraved pavers, benches, rain garden, and trees.  
If you want to join those donors with an engraved paver or bench (or engrave a second paver), visit www.nhcc.edu/heritagegarden.
Alumni Connections
Putting out a call for alumni stories! They can provide inspiration to current and prospective students as well as our community. If you know a NHCC alum who has a story to tell, contact Troy Nellis.
A series of alumni stories have been recorded in our NHCC Alumni Coffee Break series. You can view them on the North Hennepin Alumni Association YouTube page.
Welcome Back!
The NHCC Foundation is also celebrating the return of Dale Fagre and Bob Kuhlman as NHCC's Bold Generosity Advisors! Retirement is not keeping them from continuing what they love to do – empowering people and business to give boldly. They will be working on some projects for the NHCC Foundation and managing the Golf Classic next June. Their work contract is paid for by the NHCC Foundation.
Bravo to the NHCC Foundation! Thank you for all you do!