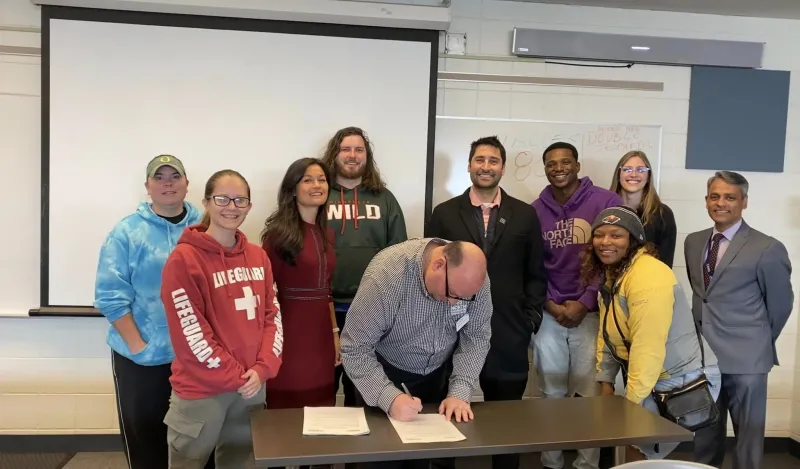 On Tuesday, November 1st, NHCC President, Dr. Garcia proclaimed November as Exercise is Medicine On-Campus Month!
The vision of Exercise Is Medicine On-Campus (EIMOC) is to "call upon universities and colleges to promote physical activity as a vital sign of health. EIMOC encourages faculty, staff and students to work together toward improving the health and well-being of the campus community". 
EIMOC events are planned, implemented and attended by students. These events also offer invaluable undergraduate research opportunities to our exercise science students. 
The health and wellness offerings we have at NHCC today, wouldn't be possible without EIMOC. Promoting free access to our gym facilities and prioritizing equipment updates, were two enhancements driven directly by exercise science student advocates.
Exercise is Medicine Month Campus Resources
Discover a new, one-stop-shop for helpful Exercise is Medicine On-Campus content               A Microsoft Teams site was crafted with multiple options for movement in varying interests! There's also a folder full of videos, from a fitness center virtual tour, to instructions on how to use the machines, and exercise print-outs too! Looking for some gentle movements you can do to minimize joint discomfort? Find National Academy of Sports Medicine (NASM) backed framework for movement in our folders as well. Along with exercises, these Teams folders also have easy-to-follow routines if improving your sleep is a task on your to-do list. You can find the Teams link here. 
Find info on our "Run, Walk, or Roll" Virtual 5k                                                                                This event has become a staple during the pandemic, join anytime from now until November 30th! Virtual 5k's allow interested participants to complete a 5k at their own pace, without leaving their comfort zone. Participants will enjoy flexible scheduling and can get motivated, if they're looking for a group physical activity experience. Join the virtual 5k here. 
Gain Insight with the WellScore Health Assessment                                                                          Students within our SMSU partner program, will host sessions to provide health assessments for participants. We know there are many factors that play into health and the WellScore Health Assessment is based off of results from multiple assessments. Current statuses, such as age, blood pressure, stress, physical activity levels, sleep habits and more, are taken into account. When participants finish the assessment, they receive a score from 0-100 based on the combination of results above. Participants will also receive advice and resources based off their score, to help them increase their number next time. It is important to know: students cannot keep personal data records, or results, (with the exception of the final score numbers). The final scores from participants will be submitted for approval and are subjected to NHCC's Institutional Review Board.
More Helpful Info 
Updated Fitness Center (HWC 153) Open Hours:

​​Monday 8am-5pm                                                                                                                                        
Tuesday 8am-11am and 12pm-5pm                                                                                          
Wednesday 8am-5pm                                                                                                                          
Thursday 8am-5pm                                                                                                                                    
Friday 10am-2pm                                             

Sign the Vending for Health student vending machine initiative here. 
Are you a student who is looking to leave feedback about EIM? Leave feedback here. 
Are you a faculty or staff member who would like to leave EIM feedback? Leave it here. 
Wondering what Exercise Science classes will be offered this spring? Check the list here.
Wondering what Health classes will be offered this spring? Check the list here. 
Join the Self-Service and Learning Teams group here. 
Sign up for EIM Bootcamp here.
Find the Exercise is Medicine On-Campus Linktree here.  
Where is NHCC's Fitness Center, Weight Room and Gym?                                                          h
We hope you can take part in some, or all of the fantastic events and resources going on in November for Exercise is Medicine On-Campus Month!