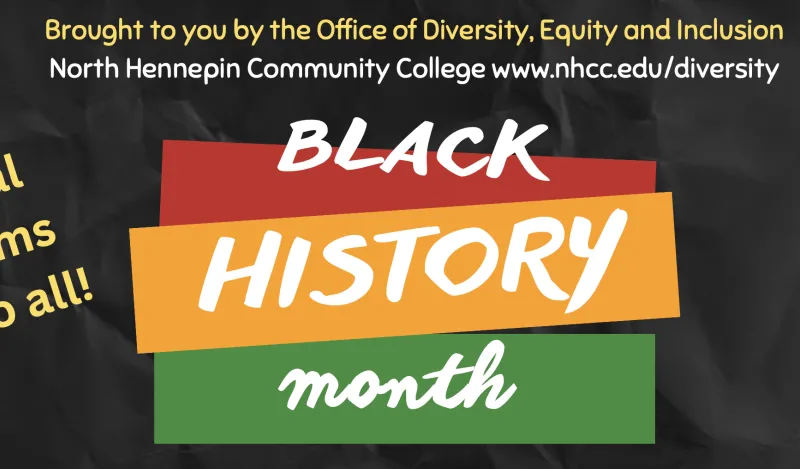 Black History Month is here and you're invited to engage in our upcoming opportunities designed to build awareness, inspire reflection and create change.
NHCC's Office of Diversity, Equity and Inclusion will be offering two virtual Black History Month programs in February. These programs are open to all (unless noted otherwise).
Find additional resources and info on the upcoming events below!
Virtual Keynote
Ebone Bell presents Black History is American History.
Wednesday, February 8, 11am-12pm
Zoom link below:
bit.ly/3Yj7zUb                                                                                                                                                  Meeting ID: 867 4103 5726
Passcode: NHCC
Program description:

Many students don't know, or understand Black history. Most of America can count the number of Black change-makers and historical figures they learned about in school on one hand. Why is the knowledge of Black history limited? After all, Black history is American history! Learning Black history, expands American education and this presentation was created to do just that. By using the art of storytelling and relatability, Ebone creates a unique way of exploring Black historical figures, experiences, and important events that have shaped our past and present. It's time to go beyond the Black history basics! Knowing your past, helps open the doors to the future.
If you attend this program, you will learn:
New stories about Black culture and historical figures
How Black history has shaped our future
We all have more in common than we think
Later in February there will be another virtual program as well!
Virtual Zoom Panel
Black History: A Truth and Transformation Panel Discussion with Spoken Word Artist Kareem Elevated
Register using the link below:
Additional resources and DEI opportunities:
Have you signed up to learn more about participating in the next Racial healing Action Collaborative? If you are looking for ways to activate change, this is for you! Sign up for an information session here: bit.ly/3wO6k3y
SAFE ZONE LGBTQ+ Inclusion Training: "Recognizing Intersectionality" February 14, 12-1pm There are as many ways to be LGBTQ+ as there are LGBTQ+ folx. While intersectionality is a cornerstone of all QUEERSPACE training sessions, this session explicitly touches on how race, culture, sexism and ableism affect the LGBTQ+ community and how we can best hear and support those at the intersection of multiple identities. Register here: bit.ly/3HQvJ31
Everyone is encouraged to attend these sessions and learn how to create a safe and inclusive environment for LGBTQ+ students and employees. Sessions are facilitated by QueerSpace Collective.
"Before European Contact: Changing the Ways We Present our History." February 5, 2pm virtually hosted by Portsmouth Library. This conversation aims to foreground the silenced stories of Indigenous and African experiences on this continent before European contact. Panelists will also discuss how we can change the language we use to tell a truer history when that history is told from an Indigenous and African point of view. Register here
Please take these opportunities to celebrate, pay tribute and learn more about the importance of Black History Month!