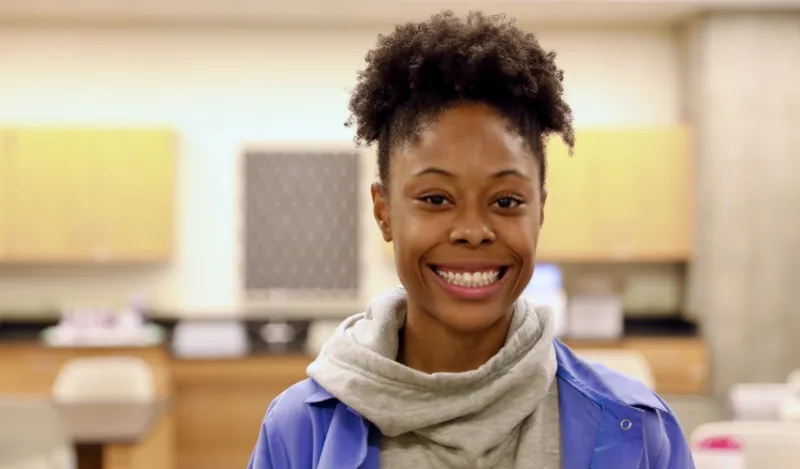 In June of 2021, NHCC launched a new Phlebotomy certificate program. To gain a better understanding of what phlebotomy is and how NHCC's program is going, we caught up with current student, Tiahna James for a quick Q&A!
What made you want to go into the phlebotomy field?
"I chose this program because, it's an entry-level hospital position that gets me closer to my career goal of being a Pathologists' Assistant. I like that phlebotomy has a patient care side and you also get to know the lab side a little bit more."
How did you find out about this program?
I found out about phlebotomy by scrolling on the North Hennepin website. At first, I wanted to apply for the Medical Lab Technology program, but I missed the deadline. On the MLT webpage, it said, 'Missed the application deadline? Don't worry we have a new program coming to North Hennepin' and it was the phlebotomy program. I thought, 'Oh, ok, I'll try this out.'
Now that you're in the program, what do you like about it?
"I like this program because it's a safe place. It's okay to make mistakes and it feels like home. If you make a mistake, everybody says, 'It's okay, you'll get it next time.'
What do you see yourself doing when you finish?
"When I finish this program, I see myself working in a hospital, hopefully and getting more practice at drawing blood."
What would you tell someone if they were thinking about joining the program?
"I'd tell them, it's scary at first but once you dive in, then you'll think, 'Oh, this is easy. I can do this.'
How would you describe the field of phlebotomy to somebody who didn't know about it?
"The easiest way to describe phlebotomy is, if you ever needed your blood drawn, or if you just got diagnosed with diabetes and you didn't know what to do, the doctor would tell you to go to the lab and that's where phlebotomists are. We draw blood."
Starting the program, did you have any medical experience? What was it like getting started?
"No, I didn't have any experience. In the beginning, it was scary because of all the big words and not knowing the suffixes and prefixes. But now I know, 'Oh, this stands for this.' My teacher, Andrew, he makes it practical, but also easy to understand."
And finally, can you summarize why you chose this program and what you want to do with it?
"I chose phlebotomy because it gives me an entry-level position into a hospital and I really want to work in a hospital for my career goal. This program is an easy step to figure out if I do really want to stay in the medical field, or not."