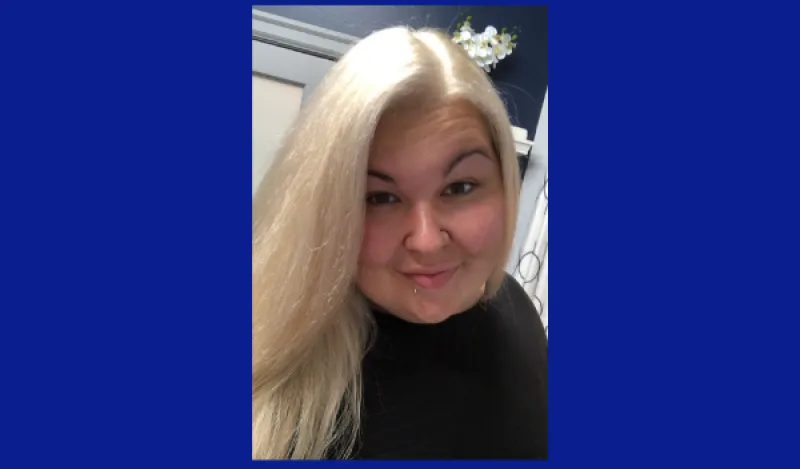 Kaitlyn Barrett is a quadruple major student, who is starring in Love Sonnets, NHCC Theatre's winter production. "The thing that's cool about this show, is that it encompasses all edges of love. Especially the messy edges and the things that we don't talk about." Kaitlyn shares her insights on Love Sonnets and answers five questions below.
1. What's your favorite thing about working on Love Sonnets?
"My favorite thing about Love Sonnets is the shift from piece to piece, and working through joyous love, cheating, loss, the I want you so bad love and working through the full spectrum of emotions that come with being in love or experiencing love."
2. Did you know who Charles Mee was before this play?
"I had heard Dr. Mayorga mention him because he is one of her favorite playwrights. But, I actually got to be in Dr. Mayorga's show a few years ago, when we did the Panza Monologues, which she also wrote. That one was not stuff she pulled, she actually wrote that whole show. So, it's kind of like an evolution for myself. Because I was younger then, I was four years younger than I am now; with cast of women that are the same age as me, versus this show, I am much older than everybody else, so it's a way different dynamic. It's kind of a full circle educational moment, as well as a career moment for me in the acting world. To have that growth and to do a similar situation, but something completely different, that's been pretty cool."
3. Do you like that this play focuses on love, do you feel like that's been done before here?
"I think you're always going to find love in any show that you go to watch. Because there has to be a love element, but the thing that's cool about this show, is that it encompasses all edges of love. Especially the messy edges and the things that we don't talk about, like the problems we have in our relationships, and 'I do this behind my boyfriend's back, and I don't think he's going to like it, but I don't actually think I love him,' is one of the pieces that somebody else does. This show just encompasses all facets of love, so, it's not just, 'Ok, we're going to tell you a love story; we're going to tell you that this person loves this person, and they fall in love and have babies.' It's not just the happy ending. It is the hard, truth and reality of love and it's difficult and its work. As we go on in the show, this floor gets ripped up and our clothes get dirty, and we're sweaty and we've got confetti. We've got all kinds of stuff and you see the labor of the actor on stage, which shows that love is hard work. Top to bottom, the show kind of goes around in a circle and it's a cool experience. There are functional swings on stage, they do work, and they are rooted into the ceiling. Dr. Mayorga wanted to add them to show the playful side of love. Each scene we go in and out and we build the set just from four blocks and four chairs."
4. Do you wish the ensemble cast had more than four people?
"Nope, not with this particular work. There are shows that are super fun with a ton of people and a giant cast; but to be intimately working with three other strong women, who are in all different walks of life than I am, it's so special. To see their journeys, as someone who's never been in an actual stage production before, somebody who's never acted before, somebody who's done a ton of shows in the children's theater world, (where this show is not children's theater), and myself, having this be my eighth show here, it's been really special."
5. Do you think this show will be one of your last at NHCC?
"I don't know! It all depends on when I graduate, you know, that whole four major thing, ends up getting in the way of things. Theater is my first love; it'll always be my first love. I want to do theater the rest of my life. I think, if you come to the show and see it, you'll see that this is the theater that I think you'll see NHCC theater molding into. It's a different kind of theater and people might be surprised. In this show the audience will be on stage with us. It's an intimate experience that they are literally right here with us for. We have a limit of fifty people in the audience per night. It's also intimate in a fun way, because the audience is backstage. They get to see how the whole mechanism works all the way together. The show starts from nothing and then everything builds up."
"I could go on and on about Dr. Mayorga for days and then I'd get emotional. I just love her dearly and she is an incredible educator. The way that she makes theater, is life changing. Each experience working with her is just flat-out life changing. She built a score of music throughout the whole show, top to bottom, that just flows everything seamlessly from one to the next. I can sing her praises forever. When you see how the music incorporates to everything that we're doing, it's just beautiful. And Soren, is a god among humans, with the lighting and the sound design, it's so incredible. We're super lucky here. We work with incredible, incredible human-beings, that chose here to work with students like myself, who are not the conventional theater student. I'm not the conventional shape, or size that people want in their theater troupe, but I have always been wanted here and I have been grown here from high school acting, then I took five years off to go back to college, and to something that I didn't know I had the potential to be. This program is special, and I wish more people knew about it and I really hope we bring in more people to this program. I don't think there's another place like NHCC theater, at all. Ever. I don't think there will ever be a place that's like this, in terms of growth and education and love. It's really special."