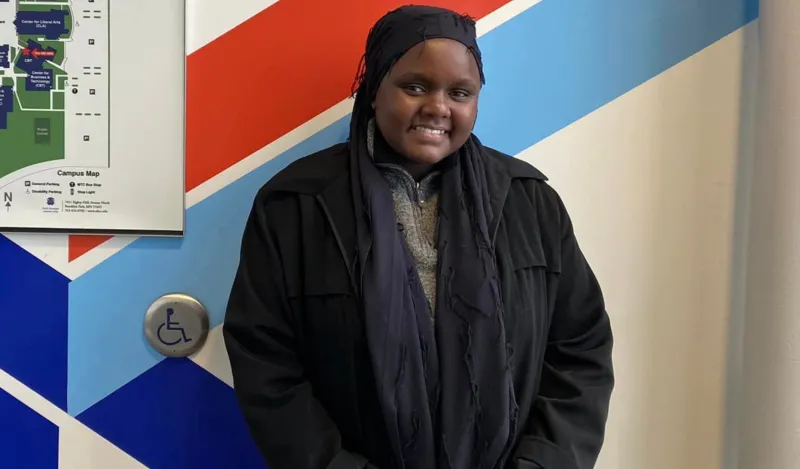 Hannah "Hozea" Kariuki, is an environmental science student at NHCC. This is her first year as a member of Be Bold Break the Mold and her first year as an official NHCC student, (she was a PSEO student here for three years)! Next year, she is set to graduate from NHCC. Hozea shares her future plans, her Be Bold experience and more with us below!
As an environmental science student, what do your classes look like?
Right now, I'm taking physics II and math. I took chemistry, but I still need to take organic chemistry. I love math classes and calculus has definitely been my favorite.
Have you enjoyed your NHCC experience?
I love NHCC! It has been a great experience coming here. PSEO was a wonderful opportunity for me, and I really did benefit from it. All my classmates are nice here; we bond over having a hard time together and help each other through it. I've also joined a few clubs at NHCC and everyone is so kind. I am a part of the Environmental Association, Psychology Club, Phi Theta Kappa and Be Bold Break the Mold.  
Who has helped you during your time at NHCC?
Maria, 100%. She's been a great help, she introduced us to Karen and the ladies at the WIEL Center. Karen worked with me on resume writing, because as of a week ago, I did not have a resume. I tried writing it myself and it got a little overwhelming. When I met with Karen, she helped me to write things down and made it feel way less daunting. NHCC's Tutoring Center has also been great. I went there for help during my physics courses and a tutor worked with me.
I am also in TRIO, and they have been a big help academically! Before I was in TRIO, I didn't know what courses I should take for them to transfer. My TRIO Advisor showed me how to find a list of classes that I need to take before transferring.
After NHCC, what are your plans for the future?
I want to work as an environmental engineer and go to the U of MN for my bachelor's degree. They have a great environmental engineering program; in fact, one of the best programs in the country. Most environmental engineers aim for a master's degree, so I also might do that. As an environmental engineer, I will help keep humans from destructing certain ecosystems and help them do things better to benefit the planet. I am hoping to work with windmills and renewable energy. I want to help increase renewable energy access to and make it more affordable.
Where did you get your passion for environmental engineering?
Ever since I was young, I've always loved the environment. I was really into astronomy years ago and I studied the planets. When we started studying earth, I learned about all the things humans are doing to the earth and how bad things are getting. I realized that I won't have a lot of time, so I want to help reverse the damage that we've caused to the earth.
What made you want to join NHCC's Be Bold Break the Mold program?
After I learned about Be Bold, it sounded very interesting to me, and I joined last fall. It's nice to see women helping other women succeed within the areas they've chosen to study. Especially in these fields where women are underrepresented. It is great to know that there is a program where mentors and other women can help you through it!
Is there a specific company that you'd like to work for?
I don't have any right now, but I've been talking to my Be Bold mentor a lot and she works as a civil engineer. Career paths for civil and environmental engineers are very similar. When it comes to classes, they usually take the same courses up until year three, when specialties are declared. My mentor recommended a few companies that would be nice for me to join. In the future I would like to focus on tech as well. For example, discovering the technology needed to build renewable sources of energy.
Who is your Be Bold mentor?
Her name is Katie Thompson. I love being able to meet with her on a biweekly basis and I also love going to the monthly Be Bold meetings. Getting together at the meetings makes me feel so reinvigorated and inspired. Engineering is really hard work! I'm taking a lot of science classes and sometimes it can bring me down. But when I go to those meetings, it ignites the fire back in me! When my mentor and I meet, we talk about all kinds of things. There are some topics that Be Bold recommends us to talk about, such as, how to ace an interview, what are good questions to ask a potential employer and how to write a resume.
(In the photo above, from left to right: Maria Vittone- NHCC, Victoria Marley- Minneapolis Chamber of Commerce, Hozea- NHCC Student, Kara Hummel- HTC Instructor and Be Bold Tutor, and Patrick Carman- Caterpillar Tour Guide. They are standing in front of a Cat® AP555 asphalt paver). 
Did you like going on the Caterpillar Be Bold visit recently?
I loved the visit it was so much fun! Unfortunately, I was the only engineering student from Be Bold who could attend the event that day. But Maria was there, my mentor was there, and a female engineer spoke to us about how she got to where she is today. Her story was great, and it was nice to see women out there who are succeeding in both their work lives and their personal lives. At the Caterpillar headquarters, there was a good amount of informal chatting, and we also went on a tour. There were a lot of guys at Caterpillar, so whenever we did pass by a female engineer, we were all so happy. Compared to the other engineering fields, environmental engineering has more women in it, than say mechanical engineering. That does make me feel better because I know I won't be lonely in the field. But in some of my classes, it can get lonely, and that imbalance does exist. I remember taking chemistry II, which was a class of 15 and I was one of only three ladies there. I looked around the classroom and noticed, 'oh, wow, everyone else here is a guy.' When I get overwhelmed by the gender roles or feel lonely, I try to look at other women who are trailblazers in their field as well. That reminds me, 'hey, they did it. I know they had struggles and hardships as well. So, if they can do it, I can do it too.' I try to take inspiration from them and tell myself, 'Yes it might be lonely now, but think about the impact that you can have for other little girls out there who want to go into the engineering field. Those girls might not see anyone there now, but once you get there, they'll see you.'
What do you wish people knew about being the only female in the field?
Things are tough out here! But I believe we can do it. That's a cliché thing to say, but I genuinely believe if you think you can do it and you put in the hard work, you definitely can do it. There's a lot of resources out here that you should access and a lot of people who want you to succeed!