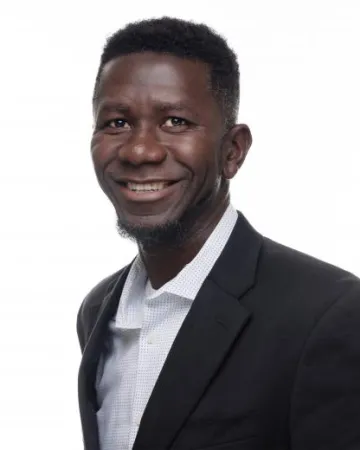 Title
Computer Information Systems Adjunct Faculty
CBT 150
Education
BBA, University of Liberia
BS, University Of Minnesota Twin Cities
MSC, Saint Marys University Of Minnesota
MA, Saint Marys University Of Minnesota
PHD, University Of North Dakota-Main Campus
Saah Kpakar is a highly motivated professional who believes teaching offers an opportunity to empower and develop tomorrow's leaders. It provides personal gratification and a sense of civic responsibility to empower individuals from diverse backgrounds. As an immigrant, Saah sees education as a pathway for creating a more equitable society. His teaching philosophy is centered around creating equitable learning environments for all students and expanding opportunities for Adult Learners to thrive.
Saah holds a Bachelor of Business Administration (BBA) degree in Accounting from the University of Liberia and a Bachelor of Science (BSc.) degree in Business and Marketing from the University of Minnesota. He also holds three master's degrees from Saint Mary's University of Minnesota: an M.B.A. in Finance, MSc. in Project Management, and MA in Educational Leadership. Saah is currently finalizing his dissertation aiming to complete a Ph.D. in Higher Education at the University of North Dakota.
Saah believes in incorporating professional experience into his teaching methodology to promote practical and experiential learning. Saah's professional and corporate experience includes working as a Senior Sourcing & Procurement Manager at United Natural Foods. His previous professional experience highlights include working at UHG (UnitedHealth Group) as a Project Manager and Senior Sourcing & Procurement Manager, the Minnesota Department of Revenue as a Revenue Tax Auditor, Ecolab, Wells Fargo, and US Bank.
Saah comes to North Hennepin with years of experience teaching in a 3rd world country such as Liberia, where he grew up, having seen first-hand the devastating effects of poverty, poor educational environment, and inaccessibility of instructional and digital technology. Saah has experienced and understands the pervasive grip and impact these challenges have on the youth and adult learners in these communities and has a passion for the mission of North Hennepin Community College.
Saah enjoys traveling and spending time with his amazing wife and wonderful kids. He plays basketball and is a very big fan of soccer, supporting FC Barcelona.