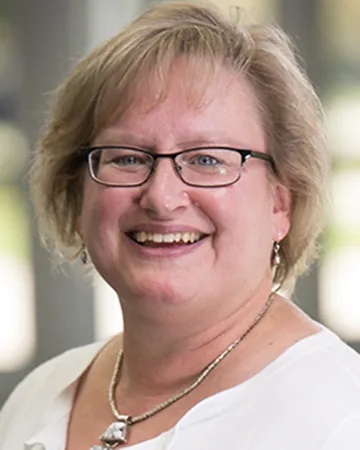 CBT 137
Office Hours:
Office Hours for Fall 2023:
Tuesdays: 5:30 p.m. - 6:30 p.m. & 8:30 - 9:30 p.m.
Wednesdays: 5:00 p.m. - 6:00 p.m. & 7:30 - 8:30 p.m.
Also, by appointment.  Just email me and we will set up a time that works for both of us.
All office hours are via Zoom and email.  I don't hold office hours on campus, since our program is entirely synchronous. 
Education
BA, College Of Saint Benedict
JD, American University
Mary Gillen Fenske has taught in the Paralegal Program at North Hennepin Community College since 2007 and became the Paralegal Program Director in 2011. In addition, she has served as an Adjunct Professor of Law at Mitchell Hamline School of Law since 2000. Prior to entering the teaching field, she was in private practice in the Washington, D.C. area where she was a trial attorney in the areas of insurance defense, medical malpractice, and general business litigation.  She also has in-house legal experience and worked for Travelers Insurance Company in St. Paul upon returning to Minnesota from the east coast.
As Paralegal Program Director, she manages the program's ABA-approval, partners with Cargill and Target Corporation for paralegal student events, chairs the Paralegal Advisory Committee, and directs all communication from the department to the students. She also is the NHCC liaison with the Minnesota Department of Corrections, the American Bar Association, and AllSquare-Minneapolis for NHCC's Department of Corrections Paralegal Certificate for incarcerated students.   
Mary serves on the Deans and Coordinators Committee, is a member of the Minnesota Paralegal Association, and the American Association for Paralegal Education.
Courses taught at NHCC:
PLEG 2211 - Legal Research and Writing I
PLEG 2212 - Legal Research and Writing II
PLEG 2430 - Torts & Personal Injury Law
PLEG 2930 - Legal Studies Seminar/Internship
BUS 1300 - Legal Environment of Business 
HSEM 1000 - Honors Seminar
My teaching style 
I use a combination of lecture, in-class group work, in-class assignments, class discussion, and homework. I can be tough. I push my students hard because I understand the demands that a paralegal will face in the legal profession. The hard work you put in while taking my classes will pay off when you begin your first job as a paralegal.

I keep a watchful eye. If you're a student in my class and I notice you're having some difficulty, I offer help. I might send an email or I'll ask you to set up an appointment, so we can talk. I also use the Early Alert Referral System that enables NHCC advisors to check in with you if you're having trouble. They're very nice. We're all here to help you succeed.

I also encourage my students to utilize the on-campus tutors. It's a free service available to all students. Some of the best students go to see the tutors, so there is no stigma attached to making an appointment. Tutors are available to make sure you get the most out of your educational experience.