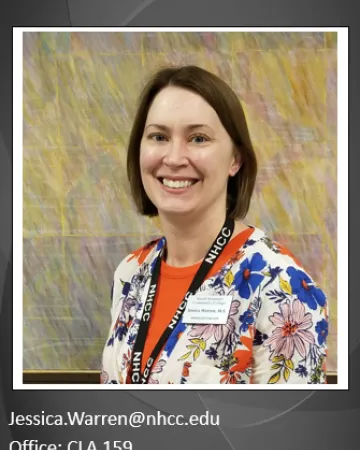 CLA 159
Office Hours:
My hours change each semester. Office hours are posted on my door, as well as on my syllabi.
I am normally busy around 9 am and around 3:30 pm (dropping my kids off at school and picking them up). Fridays are generally by appointment only.
Education
BS, Villanova University
MS, San Diego State University
I have been teaching at NHCC since 2007. I began teaching physics and astronomy. Due to circumstances outside my control, I had the opportunity to retrain in another field. Based on my experiences in the SEED program (Seeking Educational Equity and Diversity), I decided to retrain in Sociology.
I focus on intersectionality as well as the effects of race and stress on health. I try to relate our experiences in the COVID-19 pandemic to my classes, because I feel it's important to apply sociology to our daily lives. We have lived through (and are continuing to live through) extraordinary times.
I grew up in the Pittsburgh area, and I am a massive Pittsburgh Steelers fan. I love reading, and I make time to read for pleasure every day.
I live in Anoka county with my spouse and our two children. I talk about them a lot in my classes!