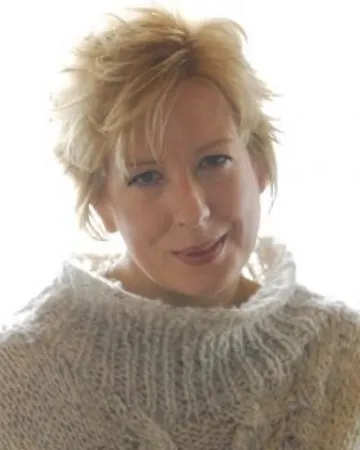 CLA 150
Office Hours:
Office location: CLA 150
Email: hfarrah@nhcc.edu
Heidi's office hours vary by semester (see your syllabus), but she answers emails within 24 hours on weekdays -- usually sooner -- and 48 hours on weekends/holidays.
You can use her email to set up an in-person or a Zoom appointment, if you'd like, as well.
Education
BES, St. Cloud State University
MFA, George Mason University
What You Might Want to Know about Heidi's Teaching:
Heidi is not particularly interested in being a judge of her students' work; rather, she sees herself as a coach. She strongly believes her job is to help every student she works with become the best reader, writer, and thinker they can be, and to help them take all of those skills, that knowledge and understanding, along with them throughout the rest of their academic journey, as well as into their civic and private lives.
She is committed to teaching the process of learning for the long term, for all the richness and beauty and power such learning can bring to any life.
When designing curriculum for her students, Heidi works hard make sure that the readings and assignments in her classes are meaningful, connected to their personal lives and experiences, not simply boxes to check off on a list nor isolated skill sets/outcomes, unconnected to either their futures nor the world we share.
Heidi meets students wherever they are, understanding that we have all had very different life and educational experiences. Wherever students begin, Heidi seeks simply to find out what is possible. Thinking, reading, and writing well is power -- personal power, political power, economic power -- and she wants that for all her students.
She also endeavors to be fully present, even after the class ends -- to cheer students on, to help them when thing get rough, and to point them in directions of growth. Heidi makes herself available to talk about any aspect of students' writing and education in person, over Zoom, or via email. She also supports students in their future journeys, by writing letters of recommendation for scholarships and transfer purposes upon request.
Heidi feels incredibly lucky and so, so grateful to have the opportunity to do this work, work that she truly loves, with the amazing students of North Hennepin Community College.
Other things you might be interested to know (personal biography):
Originally from Chicago, Heidi is a former figure skater and skating coach, a current (recreational) ballet dancer, a poet, and an ever aspirational yogi. She currently lives near George Floyd Square, on the south side of Minneapolis, with her husband, the second-generation Lebanese artist and poet George J. Farrah. They have two lovely (grown!) children and a fabulous dog named Zena.
As a theatre, English, and philosophy major in college, Heidi discovered her love for reading and writing poetry a bit late, just before her senior year, in classes and amazing summer workshops taught by the writer Bill Meissner at St. Cloud State University.
[Note: Heidi is eternally grateful to have had open-minded parents who never judged her educational choices, never complaining when she changed her major multiple times, not once questioning whether theatre or poetry would be valuable roads to walk.]
As an undergraduate, Heidi also discovered an outlet for her deep passion for social justice, becoming an early member of Women for Social Justice, a powerful group who won the state of Minnesota's first Human Rights Award for their work on sexual and domestic violence in 1989. At the same time, she studied issues of structural inequities in her college coursework, minoring in human relations and focusing her studies on social change, racial justice, and marxist/feminist theory.
As a theatre major, she also enjoyed working in stage management and, especially, acting. Highlights: semi-professional summer stock at Theatre L'Homme Dieu, including playing Ado Annie in Oklahoma -- with all Actors Equity leads -- and playing The Good Witch Glinda in a production of the Wizard of Oz that toured colleges and universities across the People's Republic of China in 1987, just two years before the Tiananmen Square massacre.To this day, she is unsure of how many students she met, especially in Beijing, who may have perished in that violence, but she thinks about their extreme bravery in the face of guns and tanks and soldiers every day.
In her senior year, realizing that a life in the theatre was perhaps not the most realistic choice, given the difficulty of the field and her relatively meager gifts (especially singing!), and after having a life-changing interaction with a visiting poet at SCSU, Heidi decided to continue her poetic education in graduate school, at George Mason University, in Fairfax, Virginia.
During this period of her studies, Heidi experienced a transformational change, discovering poetry to be so incredibly powerful, much more than she at first realized -- a form of prayer, a nourishing breath, a communion with the seen and unseen, a place to better understand herself and the world she lives in, a place to connect her stories with the stories of others, living and dead. Poetry is compelling, mystical, and even magical, as essential a thread as music and dance and art and theatre to the fabric of human expression.
At George Mason, too, she discovered something else that would shape her future: her love for teaching writing.
Growing up with dyslexia, embarrassed in the "special ed" classes of the 1970s, it is perhaps surprising that Heidi chose to work with the written word for her career. However, dyslexia gives her a different and unusual relationship to language, and embracing being neurodiverse in a discipline like English, Heidi believes, can be a useful and fascinating way to engage with the world of words.
Heidi's advisor and mentor in graduate school, Carolyn Forché, is a poet and activist well known for her human rights work around the world. Studying closely with Forché deeply influenced Heidi's continued commitment to social justice as well as her poetics/aesthetics. (Fun fact: as a former figure skater as well, Carolyn and Heidi also enjoyed several wonderful years of skating together, rekindling Heidi's love of skating after years away from it!)
At George Mason, she also had the opportunity to study with many amazing poets, both on the faculty and visiting, including Susan Tichy, Peter Klappert, Li Young Lee, Rita Dove, Toi Derricotte, Nikki Giovanni, and Jorie Graham. She focused her academic studies on the writing of women, especially LGBTQAI+ and BIPOC poets from the early 1900s to the present. Her own writing was also deeply influenced by her studies in semiotics (especially Saussure) and deconstruction (especially Derrida) and the work of L=A=N=G=U=A=G=E poetry movement.
Since finishing her MFA and returning to Minnesota in 1993, Heidi has taught composition, research, creative writing, and literature classes at colleges and universities throughout the Minnesota State system (including incarcerated students through St. Cloud State's Continuing Education program), working at technical, community, and four-year colleges. She has also taught poetry at the Loft Literary Center and first year seminar at St. John's University. She has been in her current position as English faculty at North Hennepin Community College since 2001. (See her vitae for more detail.)
Literary Biography:
Working loosely in the experimental/ language/Black Mountain/ NY School traditions, Heidi A. Howell has published poems in online and print literary magazines, including Concision, SHANTIH, s/word, Psychic Meatloaf, The Eastern Iowa Review, Otoliths, la fovea, What Light, So To Speak: A Feminist Journal of Language and Art, and the Washington Review, which nominated her work for a Pushcart Prize. She holds an MFA from George Mason University, Fairfax, VA.