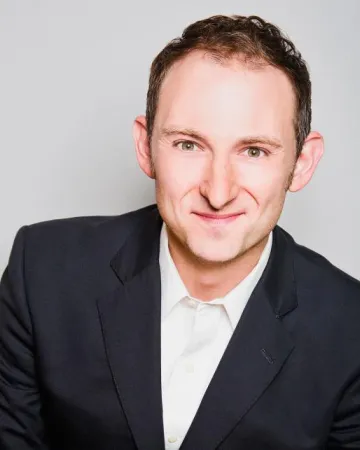 FAC 181
Office Hours:
On Campus Monday-Thursday, Office hours posted on office door, and by appointment.
Education
BM, Northern Kentucky University
MM, San Francisco Conservatory Of Music
Gary Ruschman, M.M.
Director of Choirs; Vocal Performance
 
Gary Ruschman is a critically-acclaimed musical artist, theater creator, conductor, and four-time ASCAP Plus award-winning composer who works in a broad range of styles.
Hailed by the San Francisco Chronicle as "funny and fresh-voiced", the tenor has appeared in past seasons with the Kennedy Center, Boston Pops, NPR's Tiny Desk Concerts, Minnesota Orchestra, St. Paul Chamber Orchestra, Philadelphia Orchestra, and the Prague Choral Festival. He was a member of the international-circuit Cantus vocal ensemble from 2004-14.
In addition to his duties at North Hennepin, Ruschman leads a number of ensembles in the Twin Cities from the podium and pit, including Mixed Precipitation's summertime Pickup Truck Opera and the OVation! chamber choir of One Voice Mixed Chorus. He has served as Director of Music at St. Timothy Lutheran Church in St. Paul since 2014.
Gary recently provided underscore for the U.S. National Prayer Breakfast and BBC Two's docudrama series American Justice, and co-wrote a new oratorio with countertenor Ryland Angel, WILCO guitarist Nels Cline, and jazz accordionist Ben Rosenblum for the University of Minnesota entitled The Call. His discography includes a dozen albums with Cantus, art song and alt-rock recordings, as well as three solo albums.
An experienced opera educator, Gary was commissioned to compose a children's opera and serve as director of Minnesota Opera's El Sistema IMAGINE! Summer Opera Camp in Worthington, MN, and has held education positions with San Francisco Opera, West Bay Opera, and Portland Opera. A co-recipient of Chorus America's 2011 Education and Community Outreach Award, he has co-presented more than 300 clinics at festivals, universities, and secondary schools coast to coast. He has been an Artist-in-Residence at University of Minnesota, St. John's University, University of Wyoming, and Macalester College.
After earning degrees with honors from Northern Kentucky University and the San Francisco Conservatory of Music, Gary apprenticed at Portland Opera and has sung to critical acclaim across the United States in forty stage roles, ranging from ancient masterworks to world premieres. His resume includes principal and comedic roles in the operas of Mozart, Rossini, Händel, Monteverdi, Puccini, Offenbach, Gilbert & Sullivan, Britten, Berlioz, and Shostakovich, among others, working with San Francisco Opera Center, Portland Opera, West Bay Opera, West Edge Opera, California College of Arts and Crafts, and other regional companies. Ruschman's concert career has included major tenor repertoire by Händel, Bach, Mozart, Orff, Haydn, Dvořak, Beethoven, Bruckner, Charpentier, Janacek, Saint Saëns and many, many others.
A champion of new music, Gary regularly presents new and contemporary scores, singing recent performances of Richard Einhorn's Voices of Light, and world premieres of works by Nico Muhly, Edie Hill, Sarah Kirkland Snider, Guillermo Galindo, Hector Armienta, Jocelyn Hagen, Byron Adams, Mohammed Fairouz, Mary Ellen Childs, Carla Lucero, Scott Glasgow, Lee Hoiby, Jeremy Walker, and Linda Tutas Haugen--along with hundreds of new choral pieces as a member of Cantus and First Readings Project in the Twin Cities and years on the San Francisco new music scene.
A regular performer with historically-informed Baroque performance ensembles, Gary has appeared with Festival Musique en L'Île de Paris, Urbino Musica Antica, American Bach Soloists, Minnesota Bach Ensemble, Bach Society of Minnesota, Consortium Carissimi, Bach Society of California, Twin Cities Early Music Festival, and Lyra Baroque Orchestra.