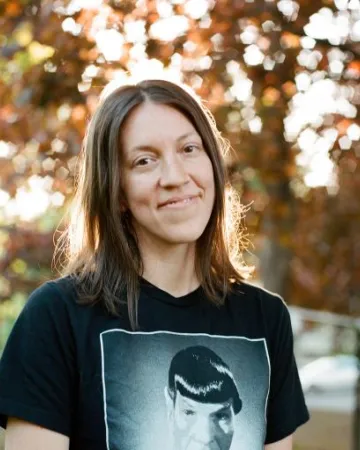 CLA 177
Office Hours:
For Fall, 2022: Áila's office hours are Fridays 9:30-12:30 and by appointment (just send me an email!)
Education
BA, University Of Minnesota Twin Cities
MAT, University Of San Francisco
PHD, University Of Minnesota Twin Cities
Áila KK O'Loughlin (all pronouns work, including they/she/he) is Philosophy Faculty at North Hennepin Community College. They hold a PhD in Curriculum & Instruction from the University of Minnesota with a doctoral minor in Philosophy, an MA in Teaching from the University of San Francisco, and a BA in Philosophy from the University of Minnesota. They are currently finishing up their second PhD in Philosophy with a graduate minor in American Indian and Indigenous Studies, also from the University of Minnesota. Áila taught high school English for ten years in Oakland, California and Minneapolis, Minnesota. Their research interests include topics in both Ethics and Education, as they relate to Gender, Sexuality, Race, Language, and Indigeneity, especially: Indigenous Kinship Ethics, as well as Philosophy of Resistance and the nature of Change/Transformation.
Áila has taught courses in (or presently teaches):
- Intro to Philosophy
- Ethics
- Free Will & Moral Responsibility 
- Philosophy and Human Relations
-Philosophy and Cultural Diversity 
-Critical Pedagogy
- Sociocultural Foundations of Education
- Introductory North Sámi Language Class
Outside of teaching, Áila enjoys gardening in South Minneapolis where they live with their kid, partner and four pets (two dogs, two cats), as well as walking their dogs to the lake, reading, dance, film, tea and language learning. 
This year, Áila is grateful to be awarded the Mellon Fellowship for Community College faculty to philosophize about Indigenous Kinship Ethics as they are illustrated through community in Sápmi (Northern Finland, Sweden, Norway and Russia).